Awards Results - Celebrating 2020
Our Awards are a look back to the previous year. They recognise, celebrate and promote the achievements and excellence of our apprentices and their employers. For those completing their apprenticeship, it acts as a fitting end to their journey and for others, inspiration to finish and achieve.

Well done to all our winners and to all those who were nominated for an award!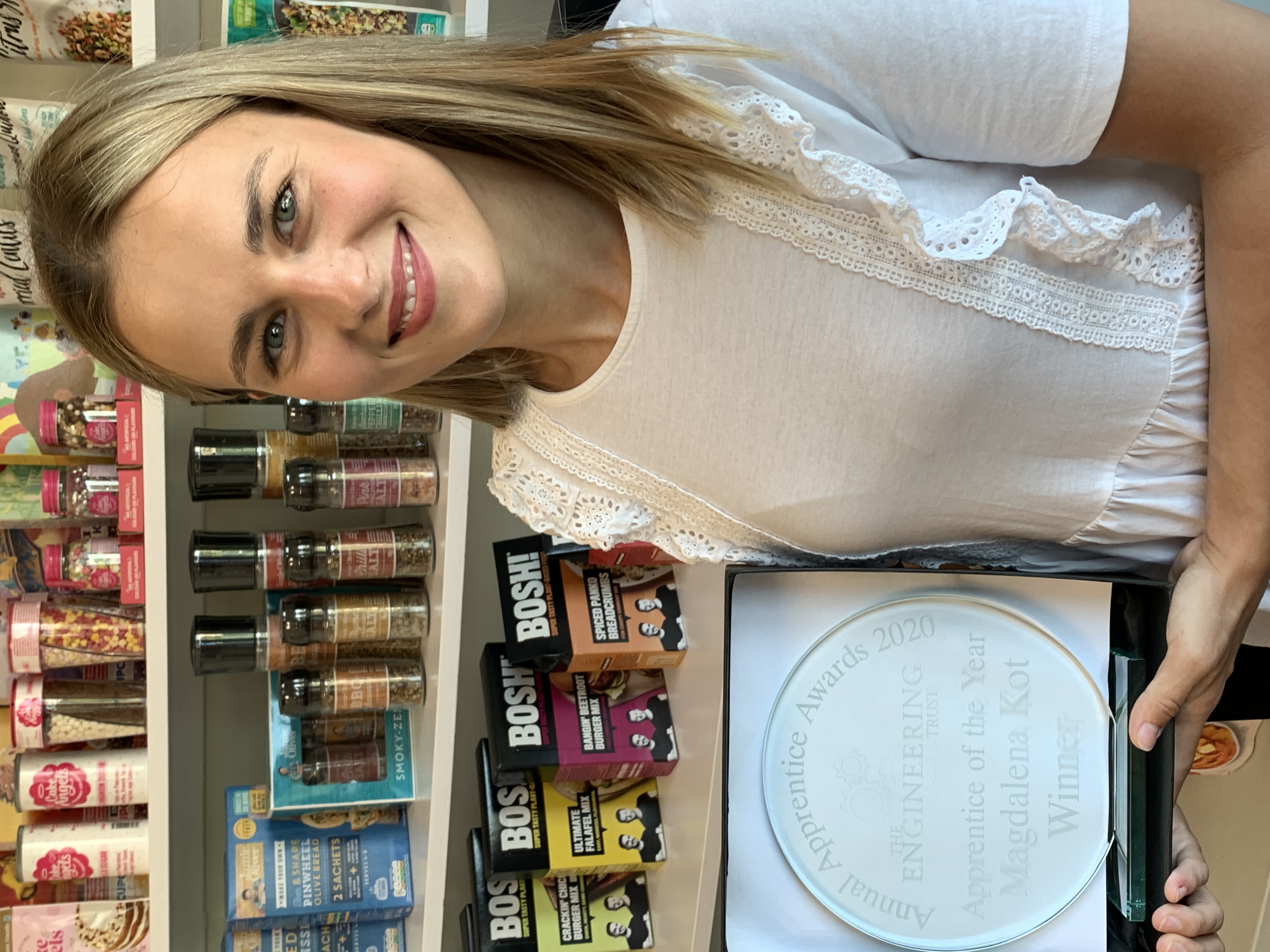 Magdalena Kot
Fiddes Payne
Well done to Magda from all here at The Engineering Trust. This award recognises someone who has excelled whilst completing their apprenticeship or who is progressing on track, if not ahead. Their level of work both within their role and their learning should be above what is expected of someone at this level and their attitude should be outstanding. Magda and all involved in her apprenticeship agree she fits the requirement of the award and she is a worthy winner of the award.
Magda's line manager, Malcolm Westbrook commented "Magda is an exceptional asset to Fiddes Payne, despite her being extremely busy with her apprenticeship, Magda goes above and beyond to support all lines in engineering requirements as well assisting in day-to-day production. Magda is also involved in a range of processes & procedures within the company including new product development trials in which she plays a key role in setting up equipment and ensuring they are operating to maximum efficiency. Magda continuous to exceed expectations and is always looking for ways to improve current processes and support others, whilst maintaining a smile on her face throughout. She is an inspiration to both her operations colleagues as well as many other people in the office functions within Fiddes Payne including me".
Norman Brodie, Fiddes Payne CEO commented "Magda is a most worthy winner of this award and it gives confidence and inspiration to many other highly talented women within and beyond Fiddes Payne."
The Award was judged by Henry Anson, Managing Director of The Manufacturer. "A great asset to her company taking the initiative and suggesting improvements. Magda is highly thought of by her employer and her apprenticeship mentor. Very impressed that she is willing to teach others and progressed quickly within her company. She was described as an inspiration who goes the extra mile in her work".
Trevor Woodger MBE Award
Judged by George Dingley, Director at Sub CNC Precision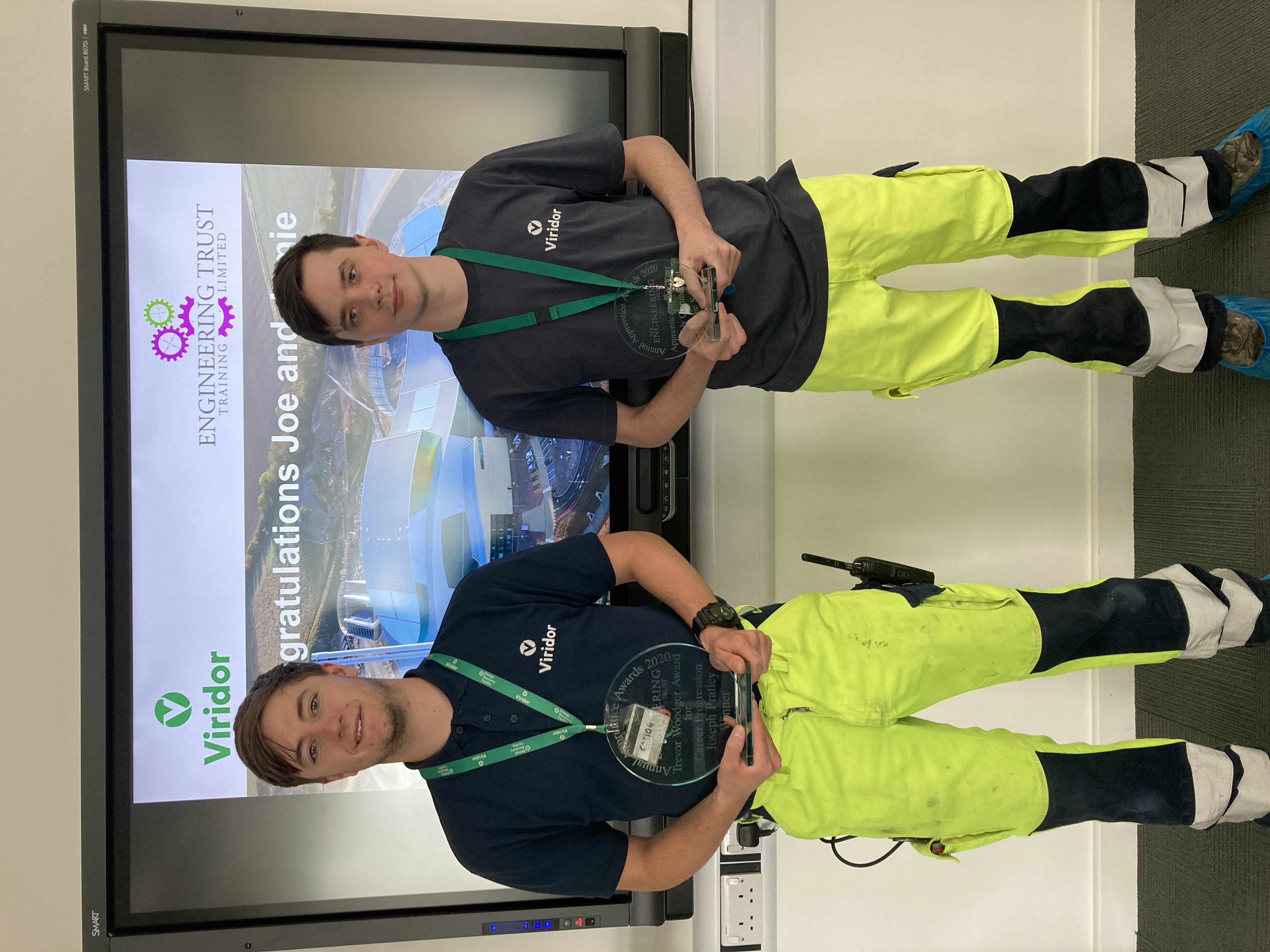 Joseph Pratley
Viridor
Well done to Joseph from all here at The Engineering Trust. This award recognises someone who has brought new ideas and enthusiasm into the business and show an openness to learn from those more experienced, in order to improve their skills. This person would have made a real impact with a natural ability and enthusiasm that shines through. Joseph was nominated by his line manager Daniel Mearns and is pictured with Jamie Smy who was a runner up in the Apprentice of the Year catagory.
Daniel Mearns stated "Joe has excelled throughout his apprenticeship, there is clear evidence of this when you look at his theoretical grades, alongside the ability to complete a 4-year program, 18 months early. When setting Joe with a task, I know it will be completed to the highest engineering standards every time, no matter how mundane the task may be. Overall he has grown into a well-rounded technician beyond his years, who will no doubt have a very successful career in engineering. Joe takes the lead in many projects and it appeared the more pressure and time constraints that are put on him, the more he thrives and delivers. For the immediate future Joe is making good progress on his HNC and has been put forward as the Electrical Technician on site who will undergo the training/mentoring required to be prepped for a HV SAP role for the future. This is credit to Joe on how he conducts himself in a professional and responsible manner that all involved are comfortable and believe in Joe so early on in his career".
The Award was judged by George Dingley, Director at SUB-CNC Precision LTD and an ex-apprentice himself. George commented, "the aspect that stuck out for me was that Joseph completes work to a high standard regardless of the tasks. This is what I like to see from employees and apprentices and is a great attitude and will establish a good work ethic to carry through his Career".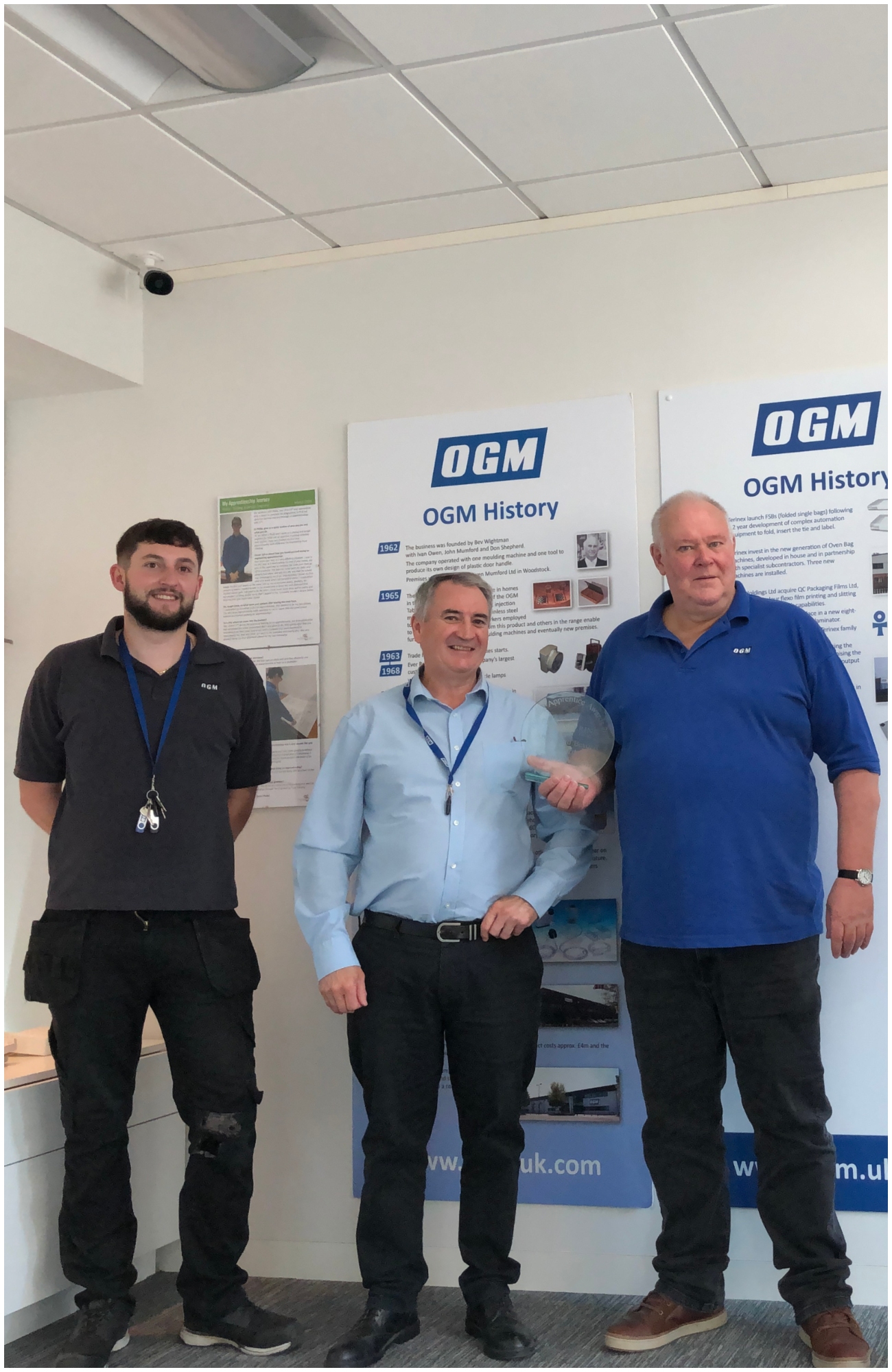 Stuart Wilson
OGM
Well done to Stuart from all here at The Engineering Trust. This award recognises and celebrates an apprentice mentor or manager who has consistently gone above and beyond for apprentices. This could be someone who has specifically helped an individual to recently achieve or someone who has facilitated the training of multiple apprentices for multiple years.
Stuart was nominated by ex-apprentice Freddie Wilson-Lyons who stated "Stuart has been an important part of the business, not only to us as apprentices but to the wider OGM operation. He has selflessly given his all, often going above and beyond, and realised the ambitions of apprentices to become qualified and successful engineers. Stuart has not only been a work coach and mentor but also a life coach and role model. He has supported his apprentices through their own personal life challenges, providing reassurance, mental health support, confidence boosting, a safe harbour to share private and personal matters and fun and laughter. Because of these personal traits, Stuart is not only an excellent role model within the engineering department but also a respected and trusted manager within the OGM family".
The Award was judged by Vincent Seddon, Head of Business Development at TBAT Innovation Limited. Vincent commented, "well done to all nominees, we are delighted to have supported the awards and had the privilege of judging this section. Stuart's nomination provided clear reasoning and a detailed overview of how Stuart has gone above and beyond and not just this once but for all apprentice he has trained. Well done Stuart for your continued dedication and support to the OGM apprenticeship programme'.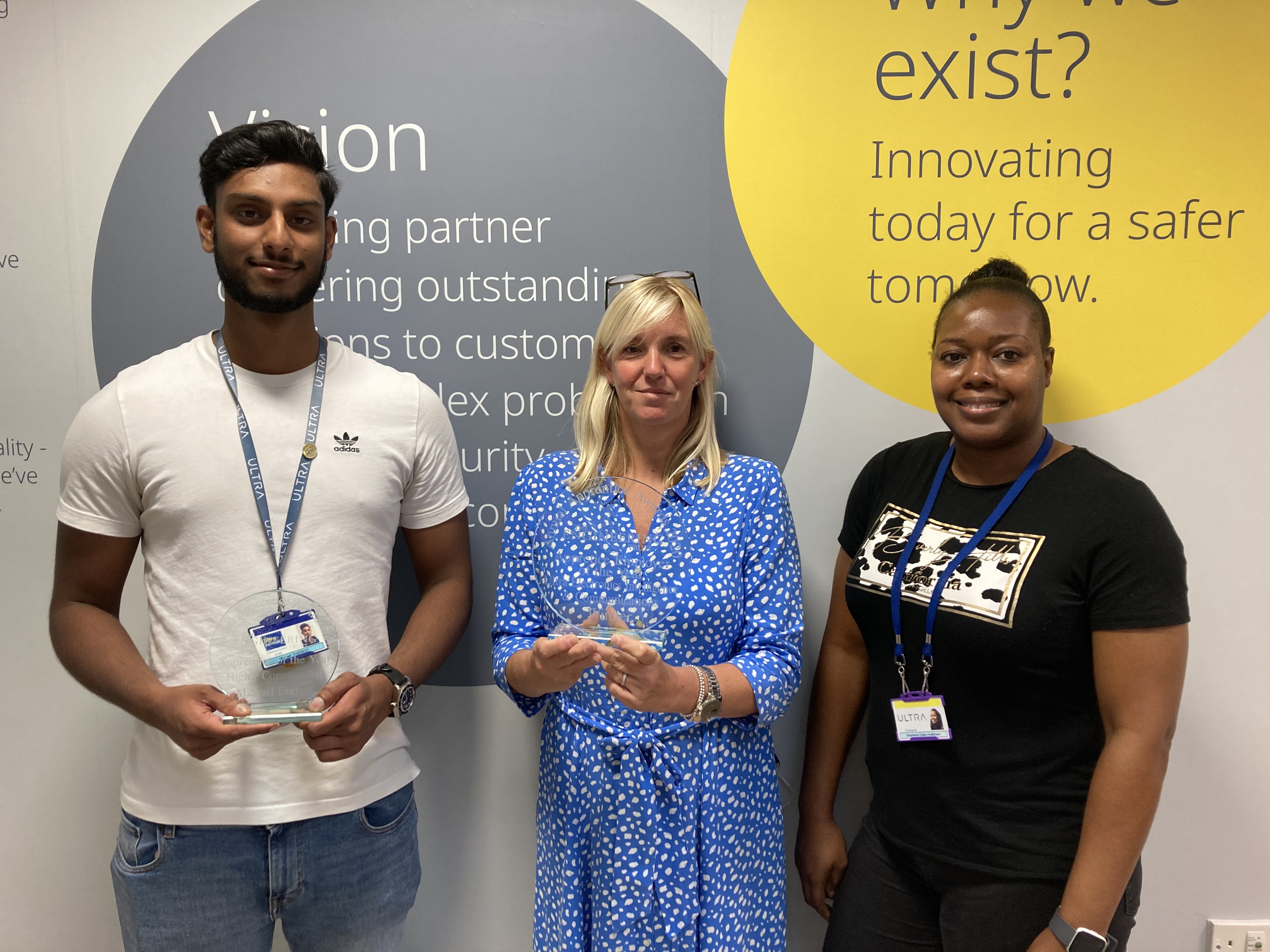 Ultra Intelligence & Communications
Well done to Ultra from all here at The Engineering Trust. This award celebrates an employer whose commitment, contribution and dedication to their apprenticeship programme has led to a successful outcome for an apprentice(s).
Ultra was nominated by their apprentice, Micheal Everest. He commented that "apprenticeships have been a fairly new thing for Ultra and I think the company was surprised as to how valuable the program has been. They invested a lot of time into the training and I was lucky enough to have both my managers completely on side with me, helping with any work or college/NVQ related queries I had. The great thing about my training was that I had a range of different people that I could approach and everyone was so friendly and helpful. Ultra is a fantastic workplace and I have grown within the company. I am now enrolled on a Degree Apprenticeship following completion of my apprenticeship with The Engineering Trust. This shows the commitment from Ultra as they were very supportive of me attaining a degree from university in order for me to progress to the highest levels within the company in the future.
The Award was judged by Su Copeland, Director at Priddy Marketing. Su commented, "The winner was chosen because of the way that the apprentice (and his cohort) and the employer learnt from each other during the process. The apprentice reported that apprenticeships were a 'fairly new thing' for this company, and their willingness to actively support, listen and adapt was highly encouraging. The apprentice noted how he appreciated that the employer quickly recognised he was more capable than initially expected and therefore given more responsibility and further learning. Well done to both the apprentice and this year's Award Winner Ultra".
Trustee Award for Contribution to Apprenticeships
Judged by ET Trustees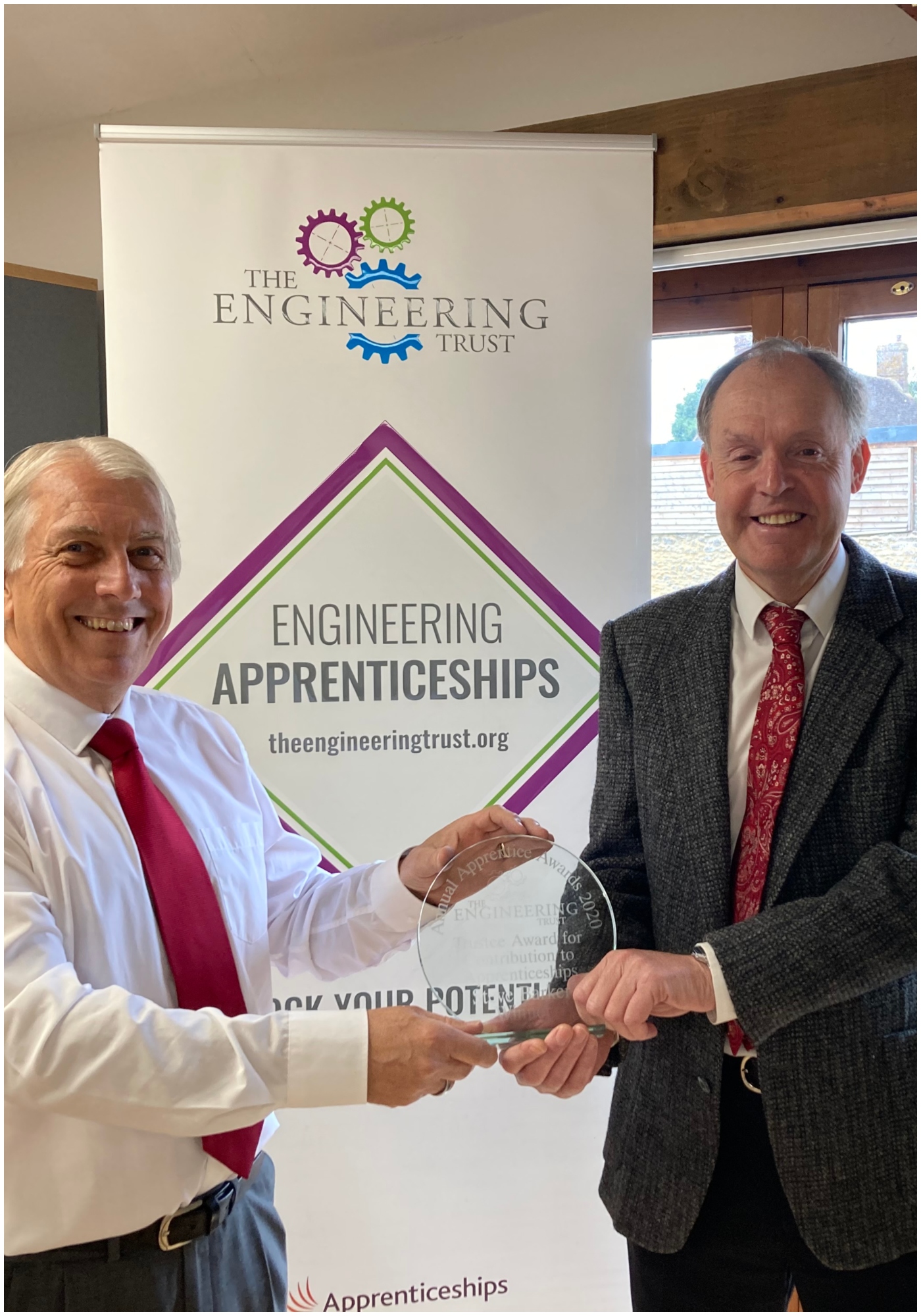 Steve Barker
Well done to Steve from all here at The Engineering Trust. This award recognises someone who has been prominent in the promotion and/or delivery of apprenticeships and learning. The person receiving this award will have been involved with apprenticeships for some time, likely as an employer, mentor or career adviser.
Steve, on the right of the picture recieving his award from Engineering Trust Chair Richard Green, was nominated by ex-apprentice Lydia Feasey, Mechanical Engineer at United Kingdom Atomic Energy Authority.
Lydia commented, "since leaving the Royal Air Force, Steve has been incredibly committed to helping apprentices successfully complete their programmes to the highest possible standard.
Whilst working for The Engineering Trust Training Ltd, Steve worked with numerous employers and learners each year, passing on his knowledge and experience to ensure each apprentice was well equipped to thrive in the workplace. Steve knew the requirements of each qualification inside-out and provided an appropriate level of support to individual apprentices to ensure they understood exactly what was required of them. Without the additional guidance from Steve, it would have been a much more difficult and daunting experience for the employers to deliver high-quality training which fulfilled the requirements. After his second retirement from The Engineering Trust roughly 5 years ago, Steve was convinced to return to employment once again to assist UKAEA with maintaining their apprenticeship standard. His strong commitment and passion for helping others to succeed in their programme continued with UKAEA and he is due to retire for a third time in the coming months. Steve has, over the years, successfully encouraged and coached hundreds of budding engineers through their qualifications and prepared them for their future careers. He has played a big part in the success of countless apprentices and being presented with the Trustees' award would be well-deserved recognition of his invaluable contribution to both the engineering sector and to apprentices".