The engineering industry is forward thinking, fast moving and looking for individuals who can achieve the required knowledge and skills to enhance the workforce of the future.
Engineering Trust Training Limited (ETT) is a work based Training Provider working with local and national employers, for over 25 years, managing their Engineering Apprenticeship Schemes. Working with employers, ETT supports the whole journey from recruitment and assessment through to a successful completion of the Apprenticeship.
Applying to ETT will match your skills and aspirations to a confirmed apprenticeship vacancy. Once shortlisted your details will be forwarded to the employer for consideration and possible interview. You only need to apply to us once in each recruitment cycle as applicants are and will be matched against all current and future vacancies. A single application could put your details in front of several potential employers.
Engineering employers across the UK are experiencing a skills shortage, which combined with the need to introduce new technologies risks the sustainability and future growth of their businesses. A recent report highlighted that UK employers need to recruit a further 60,000 engineers & technicians by 2020 in order to maintain the UK's engineering base. The reason for the shortfall is simply due to the low number of apprentices and trainees employed ten or more years ago.
For any young person wishing to pursue an engineering career there has never been a better time. Employers are actively seeking bright and enthusiastic individuals to join their apprenticeship schemes. In return they are offering a comprehensive 4 year engineering apprenticeships with good remuneration and career prospects.
APPLY NOW
To be considered for all our Engineering Apprenticeship Vacancies
VACANCIES
Chiltern Railways wishes to recruit and train an Apprentice to become a highly skilled Engineering Technician in Aylesbury, Buckinghamshire. The established training scheme develops people into skilled technicians ...
Read More >
Norbar Torque Tools Ltd the world leading specialist in Torque Tools is looking to recruit a CNC setter Engineering Apprentice in Banbury, Oxfordshire. The successful candidate will ...
Read More >
This vacancy is for a Engineering Welder/Fabricator based in Abingdon, Oxfordshire. The successful applicant will have the opportunity to undertake valuable work experience whilst gaining on the job qualifications.
Read More >
View all of our vacancies
WHAT IS AN APPRENTICESHIP?
An engineering apprenticeship combines practical and academic learning delivered both on and off the job. As an apprentice you are employed from day one and as such entitled to a salary and other employee benefits. In addition you will not incur any debt during your apprenticeship, all your training is funded by the employer and the government.
Engineering apprenticeships can take up to 4 years to complete, which is not surprising given the significant skills and knowledge that need to be absorbed. Typically a level 2 apprenticeship will take one year and a level 3 apprenticeship 3 to 4 years. The time does however go very quickly.
During the first year you will spend time at a local college/provider studying both practical and academic subjects. The college/provider selected will depend on where you live and the courses they offer. You would not be expected to attend a college/provider that was difficult to travel to.
The subsequent year(s) are spent on the job following a company training plan, which takes you around the business working in various departments. This is necessary to gain the knowledge and experience required to successfully take on your final role. This may include time in admin, finance and stores; however the majority of the time will be spent in the technical areas.
WHEN TO APPLY?
Engineering apprenticeships typically follow the academic year. For a September start we would ideally receive your application in December, or soon after, so can start our recruitment process. Having received your application ETT will ensure you receive regular email updates.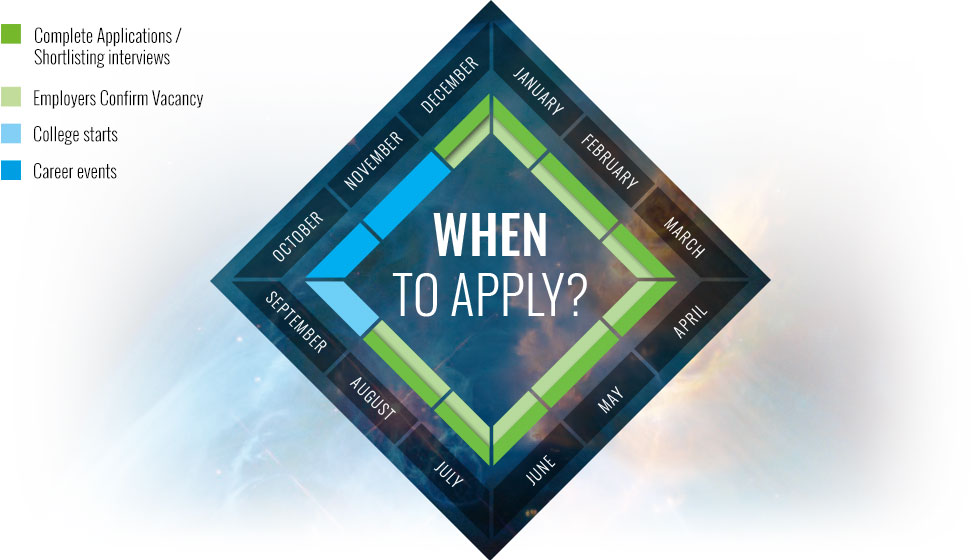 PARENTS & GUARDIANS
There has never been a better time for a young person to choose an engineering career. Currently engineering employers are facing a skills shortage, due to a combination of an ageing workforce and the introduction of new technology. Employers are therefore keen to attract bright and enthusiastic young people into their businesses to ensure they remain competitive and can adopt new technologies.
Apprenticeships deliver a range of practical and academic training, providing an apprentice with the underpinning engineering skills and knowledge which are essential for a successful start to a career in engineering.
Many employers offer their apprentices the opportunity to progress onto higher education such as HNC or Foundation Degrees. Some even go onto complete a full degree. All of these are typically funded by the employer in addition to paying the apprentice a salary.
School Participation Age
Raising the Participation Age is not 'raising the school leaving age' or about staying in school. The school leaving age hasn't changed. Instead students have a number of new and different choices, once year 11 (16 years of age) has been completed. To ensure young people are better prepared for work all students in England will have to continue in education or training beyond their 16th birthday.
By giving students the opportunity to develop skills they will need for adult life and to achieve their full potential, it will improve the level of skills available to businesses to help them to grow.
Students now have the following choices;
Remain in full time education at school or a college
Many schools and colleges now offer preparation for work and vocational courses in addition to the traditional A level courses. Give some thought to the course you're considering; if you want a career in engineering you need to take engineering subjects and courses. For example, math's, science, Btec engineering etc.
Choose work-based learning, such as an apprenticeship
Advanced Apprenticeships are an attractive alternative to A levels and University. Work based learning combined with academic study is becoming the preferred choice of many employers as a way to introduce young people into engineering. If you are looking to progress into higher education an HNC, Foundation Degree, and a full Degree are possible via the apprenticeship route and a supportive employer. In addition, you will be paid a salary and will not have any tuition fee debts.
Be in part-time education or training if they are employed, self employed or volunteering for 20 hours or more a week
Students can go into full time work or volunteering. If they do they will need to combine this with part time education or training. It could be either a part time college course or an employer's own training scheme.
APPRENTICESHIP FAQS
Frequently asked questions about apprenticeships:
How much will I get paid?

As an apprentice your salary is ultimately determined by your employer. However, there is a national minimum wage for apprentices. Traditionally engineering apprentices are paid considerably more. Typically a Level 3 Apprentice can expect a starting salary circa £12k pa and a Level 2 Apprentice circa £9k pa.

What qualifications will I need?

The entry requirements for an engineering apprenticeship at level 3 are 5 GCSE grades 5 and above including Maths, English and Science. Some employers however will only consider applicants with GCSE grades 6 and above , in Maths particularly those from the Electronics and Aviation sectors.

For a level 2 Intermediate Apprenticeship you will need at least 3 GCSE grades 3 and above in Maths, English and Science.

Which college/provider will I attend?

There are many factors which determine which college/provider an apprentice attends. Be assured an apprentice, wherever possible, would not be sent to a college/provider that was difficult for him/her to travel to.

Will I be offered a role at the end of my apprenticeship?

You are employed from day one to be trained for a specific role.

What holiday entitlement will I get and will I be paid?

As an employee you will be entitled to paid holidays, the number will be detailed in your employment contract.

What happens if I find some subjects difficult?

At some time the majority of Apprentices have experienced difficulties. This can be addressed with initial support from your Tutor or if necessary additional subject lessons.
USEFUL LINKS
Contact Us
Contact us using the form below