Progression within apprenticeships
How can employers use apprenticeships to progress both staff entering the business and those already employed? We hear from Sensor Technology about their apprentice who has learnt from the ground up.
The beauty of apprenticeships is that there is something for everyone. With levels ranging from 2 (GCSE level) to 7 (degree level) and over 600 apprenticeship standards to choose from, there is an entry point for pretty much any person in most industries.
In a recent government report, published in October, it found that 81% of apprenticeship starts in 18/19 were at either level 2 or level 3.
The report comments: Among employers, the key determinant of whether to offer a Level 2 or Level 3 apprenticeship was the nature and skill level of the job that came with it, which linked to the ability and experience of the candidates. For example, several employers reported that it is their company policy to start all apprentices at Level 2. This is in part driven by wanting to create a foundation level of training and skills across the entire workforce (mentioned by employers across all 4 Sector Subject Areas of which Engineering and Manufacturing Technologies is one) and in part because the company predominantly recruits people with little prior experience of the role who need to learn from the ground up. This was especially important where recruits were aged 16-18 and had little or no prior work experience'
Progression
A key phrase in the report is 'learning from the ground up' and is a driver for why many employers use apprenticeships as their preferred method of training staff. Apprenticeships can be seen as a ladder that allows an employee to climb the levels, increasing their skill, knowledge and competence as they go. The nice thing about the ladder however, is that employees can hop on at any point depending on their prior learning and experience. Indeed, similar to the report, we find most interest from businesses looking to use level 2 and 3 apprenticeships to bring new staff into their organisation. However, we have also had a number using level 4 apprenticeships to progress existing staff giving them career development, boosting motivation and increasing retention.
A great example of moving up the apprenticeship ladder is Callum, a Trainee Electronics Technician at Sensor Technology in Banbury.
Tony Ingham, Marketing Director at Sensor Technology explains: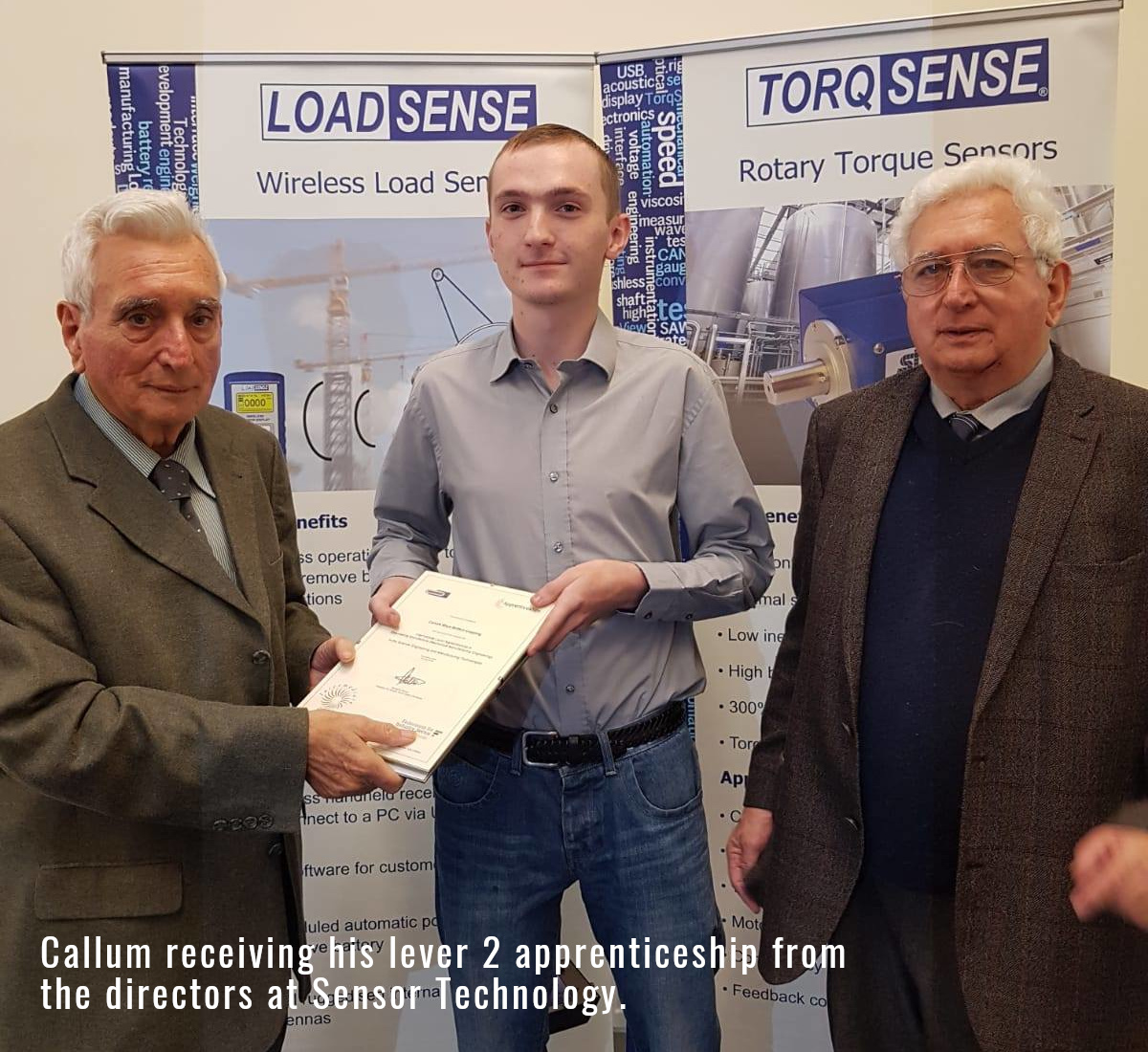 Callum joined Sensor Technology in January 2016, as a Trainee Electronics Technician, having not long left Sixth form and with no previous engineering experience. Initially Callum shadowed colleagues learning basic electronic engineering skills such as soldering and wiring, whilst also learning and understanding Torque Measurement and the technology and mechanical skills used to manufacture our equipment.

Later in 2016, Callum enrolled with the Engineering Trust to complete his Level 2 Mechanical Manufacturing Engineering Apprenticeship. His outlook was always to gain as much knowledge as possible from his days at college, to time spent actually manufacturing and talking to various colleagues about the background of our products. Callum completed this course in 2018, and since then he has been working within a small team of engineers including mentoring a new apprentice. In order to increase his depth of knowledge, he is now progressing onto his Level 3 Engineering Fitter Apprenticeship.

Callum is a highly valued member of the team who knows our products inside and out having worked and learnt with us from the start of his career. He is thriving with his personal development, engineering skills and knowledge within the industry continually broadening. Gaining his level 3 qualification will be a real bonus for him and provide the business with a well-qualified, highly skilled member of staff.
Callum and Sensor Technology are a great example of how a business can use apprenticeships to bring new talent into their business and then progress it through the apprenticeship levels. Apprenticeships are a long term strategy that can give a business the pipeline of skilled people they need to confidently move forward whilst also giving fantastic opportunities for people to enter the industry and carve out a career. Well done Callum, and well done Sensor Technology!
Written by Rob, Training Officer.
Thanks to Callum and Tony at Sensor Technology for their input.
Main image credit: vector png from pngtree.com