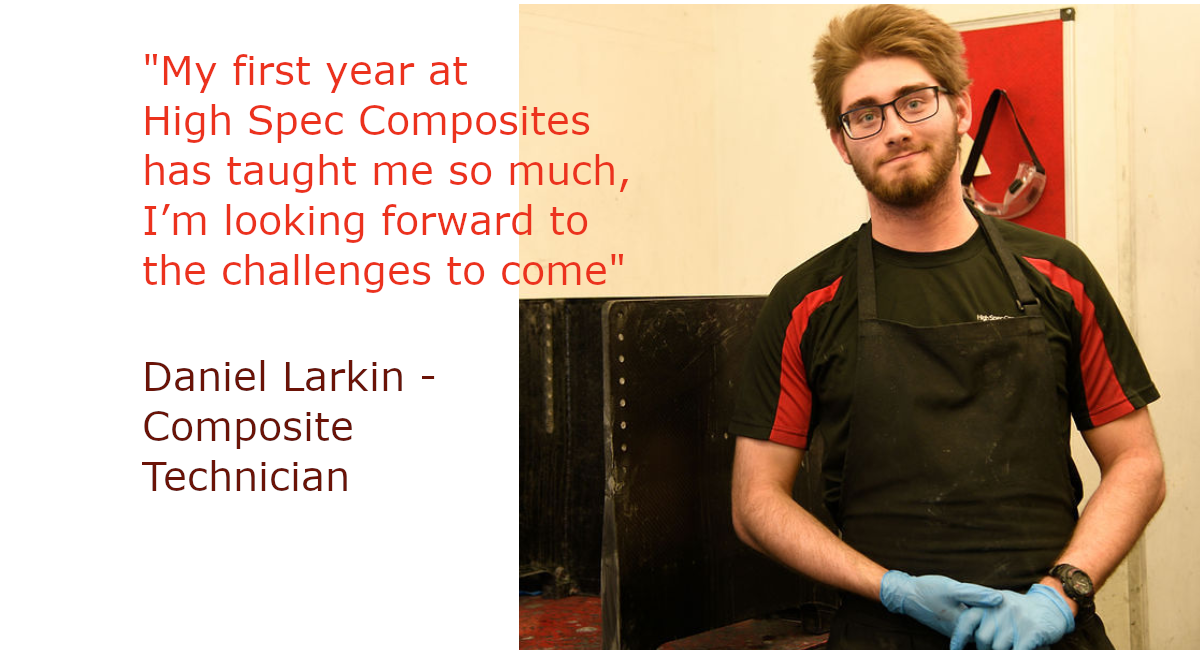 My Apprenticeship Journey – Daniel Larkin - Composite Technician
We spoke with Daniel, a 2nd year apprentice working as a Composite Technician for High Spec. Composites to tell us about his route into an apprenticeship and his next steps following completion.
Hi Daniel, gives a quick idea of who you work for and what you do.
I work at a company called High Spec Composites (HSC) and started in September 2019 as an apprentice learning the trade of composites.
What is a composite?
I'm glad you asked! A composite is a combination of two materials that when combined, creates a material which is specialised to do a certain job. At HSC our composites are mostly used for high performance formula 1 racing cars. We also make carbon fibre parts for aerospace, the military, the medical sector and the automotive sector plus bespoke work for the sport and leisure industries.
So what has your first year looked like?
In the last year my confidence has grown as I have improved my skills at work. It has become easier to manage day to day life whether doing coursework, fixing something at home or noticing problems or dangers at work. I have learned a great deal about health and safety from my time in the work place and doing coursework. My capacity for learning whether it's at home, work or collage has increased enormously. I get great satisfaction from completing a task at work, seeing it through from start to finish.
How have you documented your learning?
I have charted my progress over the last year by completing log book entries. These break down the tasks I complete as part of my role at HSC and it documents the steps needed to complete each task. I have filled out 5 of these entries so far. Each separate document contains the tasks needed to be undertaken in the production of the part, the tools I used to produce the part and method I used to make the part.
Why did the role at HSC appeal to you?
My interest in motor sport began when I was 16. I worked for a recruitment agency who offered me the chance to work as a waiter at Silverstone race track. I was able to watch a few races which I thoroughly enjoyed. That interest turned into a passion which has stayed with me ever since. My interest in motor sports has increased in recent years, watching and hearing the races, being there and seeing the thrill of the race, it's very exciting. Working for HSC combines my passion for racing and my day to day working life.
Final thoughts about your apprenticeship?
My first year at HSC has taught me so much, I'm looking forward to the challenges to come and continuing to gain new knowledge and skills. Engineering Trust Training who manage my apprenticeship have also taught me numerous skills and helped me to increase my knowledge.
Written by Daniel Larkin
Questions from Rob, ETT Training Officer