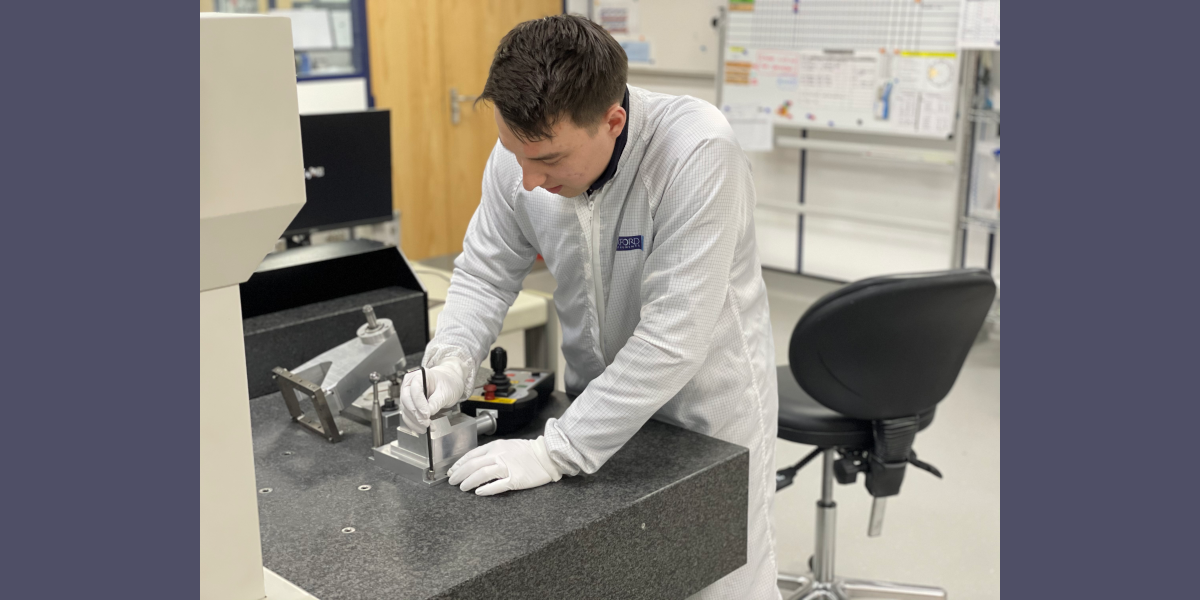 My Apprenticeship Journey – Damian Wojtowicz – Apprentice Manufacturing Engineer
We spoke with Damian, a 2nd year apprentice working as a Manufacturing Engineer for Oxford Instruments, to find out about his route into an apprenticeship, what he does and his aspirations for the future.

Hi Damian, thanks for answering our questions.
Tell us how you found yourself at Oxford Instruments?
During collage I reached the point where I needed to decide on what to do next. I was already doing an engineering course so I knew that was the way I wanted to go. Researching my options, I came across The Engineering Trust who were super helpful and got me on the right track. ETT suggested Oxford Instruments (OI), and after some research I was sold. I really liked the scientific nature mixed with manufacturing engineering of the work done at OI.
What does Oxford Instruments do?
Contrary to common belief, OI is not only located in Oxford and in fact is an international company with locations in Europe, USA and Asia. The whole business has a wide span of products which are used in scientific research. The manufacturing company researches and develops tools which scientists and researchers use to find new discoveries and improve the current ones. The business group I'm working within focuses on nano analysis which, like the name suggests, involves analysing materials at the nanoscale (nano meaning one-billionth of a measurement e.g. a nanometer is one-billionth of a meter!).
What is your role within Oxford Instruments?
I am a Manufacturing Engineer Apprentice which means that I work closely with the manufacturing team. I use various manufacturing methods and processes to complete the assembly of a range of products and ensure it all runs smoothly.
What about engineering, why did you choose to follow that path?
I'm a really hands-on person and I found engineering to be the perfect mix between theory and physical work. Solving problems and improving current processes gives me the opportunity to develop my skills as an engineering apprentice and as a person in general.
Tell us more about your experience and why you chose to start your career with an apprenticeship?
I was eager to get started and I found that an apprenticeship would give me the start I need for my career. In my opinion, an apprenticeship gives you the experience that many employers within the engineering sector are looking for.
Tell us about something at work that you are proud to have achieved.
I work closely with the manufacturing engineering team which means I'm involved each day on different projects. Recently I have been given a small process improvement project to lead which is very exciting and allows me to develop my skills further. Although I have not finished this project, I have achieved many milestones with the help of my mentors.
How do you see your career developing in the future? – Do you have any aspirations, ambitions & personal goals?
I want to try different aspects of engineering to see whether I like them or not. A possible option would be to try service engineering which would include helping the customers who are using our products. Not only will I be able to learn new skills, but I will also be able to apply and develop my current ones.
Would you recommend doing an apprenticeship?
I would recommend an apprenticeship to anyone and would encourage people to look for opportunities within the discipline they are interested in. You will get valuable hands-on experience and learn useful theory behind everything you do.
How has ETT helped you achieve your apprenticeship?
ETT has been with me all the way. Right from the start they arranged everything and made it a smooth process. They continue to support me throughout the apprenticeship, checking on my progress and ensuring I am continuing with the theory work to achieve the qualifications.
So what's next for your career?
Oxford Instruments is offering opportunities all around the world, which I can use to develop my skills and try new things. I really like the job I'm doing currently and I still have a lot to learn. I think the best thing for me is to try different things and see what suits me best – I'm really fortunate to work within a business that allows me to do that.
Thanks again Damian, great to hear about your apprenticeship and the progress you are making.
Questions by Symon, ETT Training Officer.